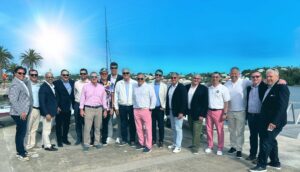 Greenwich Members Enjoying the Royal Yacht Club / Bermuda, May 2023
The Greenwich Group comprises 19 member agencies that write over $1 billion in premium volume. Its Members retain their individuality and operate independently as affiliates of the group, meeting regularly to share ideas and learn from insurers about new programs in each Member's areas of specialization. Some Greenwich Group Members operate on a retail basis, whereas others are focused on identifying markets for a wide variety of specialty programs for which they can act as program managers or managing general agents.
Members sign an affiliation agreement, in which they agree to abide by the group's bylaws and to conduct themselves professionally, adhering to a written code of conduct. A key expectation is that each Member makes a sincere effort to help other Members with problems. If a Member calls with an exposure in another Member's area of expertise or geographic capability, we are committed to assisting the Member satisfy the needs of his customer.
GEOGRAPHIC DIVERSITY: A key to the success of the Greenwich Group is that it selects Members in key geographic locations where there is no overlap of marketing territories. That results in Members supporting rather than competing with each other. Current Group Members are located in Arizona, California, Connecticut, Florida, Georgia, Louisiana, Massachusetts, Minnesota, Nevada, New Jersey, New York, Oklahoma, Tennessee, Texas, Washington D.C., and Canada.
The Greenwich Group's geographic reach pays dividends for both Member agencies and their clients. Being able to call on high-level expertise from colleagues in key cities across the country allows Members to offer their clients the benefit of crucial local market knowledge and contacts that otherwise wouldn't be available except at a high price. Because of the Member's strong commitment to supporting each other, there's a level of trust that serves as the foundation for mutually beneficial relationships.